Nos sonhos do Anjo da Mascara relata-se, no final do sonho, visões estranhas. Hitler, pombos, crianças... mas uma sem dúvida, chama mais a atenção. Se trata de uma foto de família preto e branco, e logo depois uma pintura da foto, com os números "1568" no canto. Não se sabe a origem, nem o porque, mas é no minimo curioso.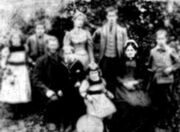 Ad blocker interference detected!
Wikia is a free-to-use site that makes money from advertising. We have a modified experience for viewers using ad blockers

Wikia is not accessible if you've made further modifications. Remove the custom ad blocker rule(s) and the page will load as expected.