Aparência
Edit
San Marino é uma cidade costeira muito frequentada por turistas devido a suas praias e clima quente. Mesmo no inverno, é um lugar quente. É geralmente para San Marino que a maioria dos passaros migram no frio. É um lugar maravilhoso, com muitos coqueiros, carros e barzinhos. Há também muitas ilhas, mas algumas são proíbidas devido aos animais. A criminalidade é alta, mas as taxas diminuem graças aos Caçadores de Criminosos.
Graças aos turistas, uma mistura incrivel existe. Existem praticamente todas as raças do mundo.
Locais Significativos
Edit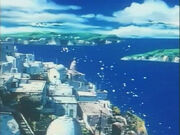 Ad blocker interference detected!
Wikia is a free-to-use site that makes money from advertising. We have a modified experience for viewers using ad blockers

Wikia is not accessible if you've made further modifications. Remove the custom ad blocker rule(s) and the page will load as expected.